Concours d'Elegance
The marriage of the car of the future and fashion
France was the cradle of the Concours d'Elégance in the 1920s and the creator of these very popular meetings in which exceptional cars of the era, often personalised by famous coachbuilders, were on display in the company of elegant women dressed in the latest clothes by the great names in French fashion.
One of the driving ambitions behind Chantilly Arts & Elegance Richard Mille was to revive this glorious epoch by inviting car manufacturers and designers to unveil to the public their concept cars, interpretations of the future models of their make, by associating them with models in the most beautiful clothes from fashion houses in a unique parade very popular with the public.
Thus, premium makes like Alpine, Aston Martin, BMW, Bugatti, Citroën, DS Automobiles, Ford, Honda, Lexus, Maserati, McLaren, Mercedes-Benz, Peugeot, Porsche, Renault, Rolls-Royce, VW etc. and Italian coachbuilders Italdesign, Touring et Zagato unveiled in the last four Chantilly Concours d'Elegance, sometimes as a première, their latest interpretations of the motor car of the future associated with dress creators Haider Ackermann, Giorgio Armani, Balmain, Hugo Boss, Ann Demeulemeester, Eymeric François, Jean-Paul Gautier, Yang Li, Thierry Mugler,  Paco Rabanne, Alexandre Vauthier etc.
A stone's throw from Paris: Haute Couture houses meet automotive… haute couture.Stylists and designers parade together. For the fun of it and to win!
Entry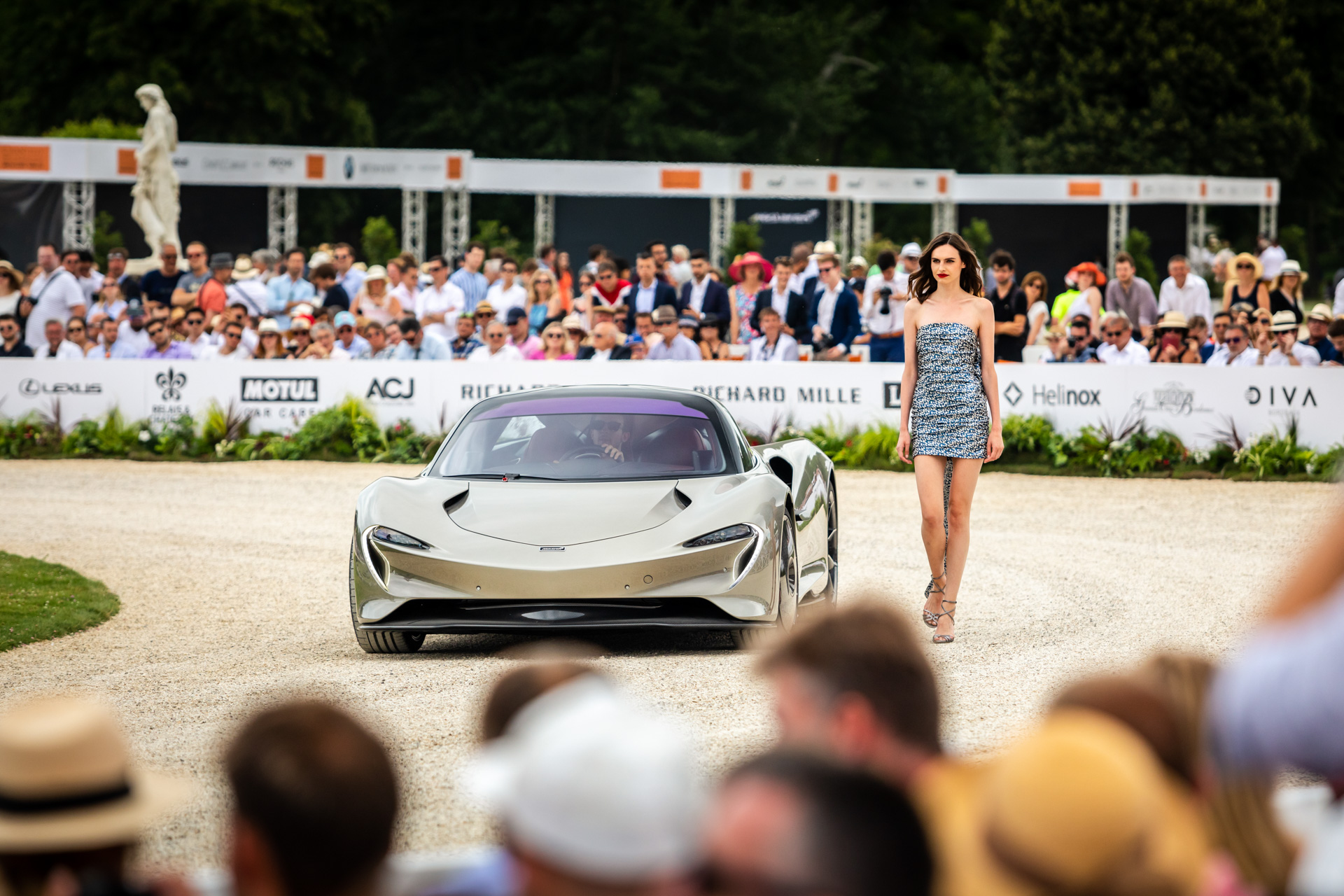 2022
Aston Martin DBR22
& Ozgur
2019
McLaren Speedtail
& Anne Demeulemeester
2017
Citroën CXperience
& Yang Li
2017
Renault Trezor
& Balmain
2016
DS E-Tense
& Eymeric François
2015
BMW 3.0 CSL Hommage R
& Balmain
2014
Alfa Romeo Disco Volante
by Touring & Paco Rabanne